Who stocks woollen products?
Where can I find a Sheep skin bed liner ?
JCB Leathers
Genuine sheep skin products, such as slippers and boots, industrial and medical sheep skin products.
Osstech
Manufacturer and supplier of orthopaedic textiles and amputeer products
Call 021 785 5974 / email: osstech@telkomsa.net
Leather Wool Vellies
Genuine Leather Wool Vellies Unisex

Testimony - "Nice and snug ; the loose laces translates quickly to wool slippers if you want to go outside to greet the neighbour without getting thorns piercing through the soles ! Very neat fit, soft leather and perfect for a semi formal event.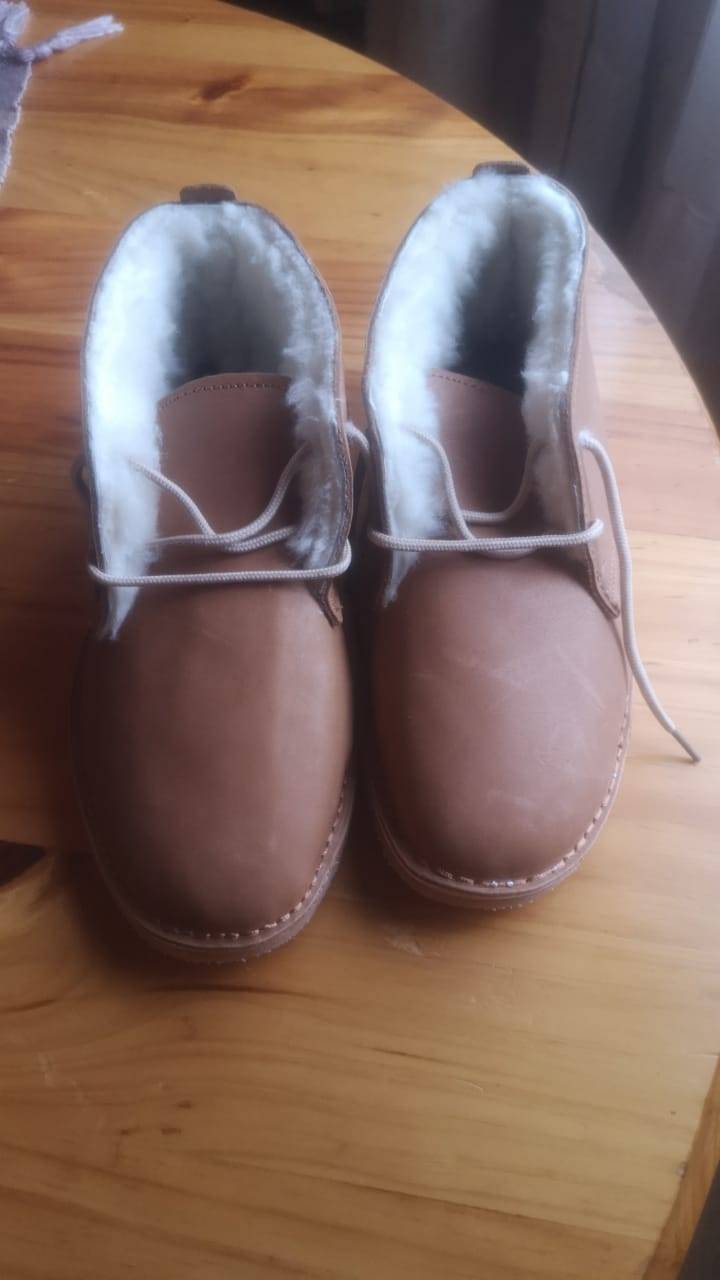 Agents to contact
To buy wool
For Sock weight, Moonlite Wool and Knitted and Crocheted products - Judi Sheard - (043) 735 3115 / 082 781 6882.
Natural designer fabric and yarn.
Stockists of woollen/wool blend suits, trousers, jackets, shirts, ties etc. House of Monatic supplies to retail stores and not the general public. However, products can be viewed on website with an online ordering system. http://monatic.co.za/

Products can also be bought from factory shop situated in Salt River, Cape Town. Address: 364 Victoria Road, Salt River. Tel no (021) 442 9400.
WOol is not just for jerseys
The wool was donated by the Wiese Business Trust of Loxton in the Northern Cape. The wool on the sheep was 6 years old when it was shed off late 2011. There should have been prints for 2 welfare organizations.

All the whitest pieces have been removed, spun, washed and pretty naturally bleached. The blanket was then attached to Christina Kiddies Center in Kimberley and then sold at an auction for R20 000, also wearing a blanket for the Eljada aftercare center in Oudtshoorn is also wool.

To find out more about the product, please contact Annette Oelofse, from ANNETTE OELOFSE MOHAIR PRODUCTS CC

www.mohairblanket.co.za ; www.mohair.mobi
Weaving, spinning and dyeing
Commercial weaving: HINTERVELD
Local Port Elizabeth fabric supplier to high-end European fashion houses. Contact Mandy Wait on mandy@hinterveld.com (http://www.hinterveld.com/)

Hand weaving: WESTCLIFF WEAVERY
Create your own, bespoke fabric, from scratch and using only the finest yarns with Sandi Gillman (https://www.westcliffweavery.com/)
Pietermaritzburg, KZN
Washing, dyeing, carding, spinning, knitting, felting of locally sourced wool from various breeds.
Offers spinning classes, extensive knowledge of wool preparation techniques on small scale.
Tina Mossmer, Tel no 082 855 3982 / tina.mossmer@gmail.com
Pietermaritzburg, KZN
Yarn Stash Pietermaritzburg sources local South African mill spun merino, merino blended and blue faced leicester yarns to hand dye into limited edition cakes of colour. https://www.yarnstashpmb.com/
Wendy Bloy, Tel no 072 114 1082 / yarnstashpmb@gmail.com
Smithfield, Free State
Quality handmade Merino wool knitwear / Authentic South African wool products - Ani Laine Handspun Merino wool. Hand weaving.
Annette Vogel, 082 785 1997 / avogel9966@gmail.com
Using this site means you accept its
terms
|
PAIA Manual
| Copyright © 2022 National Wool Growers Association, South Africa
| website by